Become a Authorised Distributor/Supplier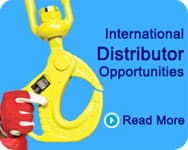 Nautilus Rigging LLP, a UK based company, are seeking suitably placed organisations to join their growing network of international suppliers and authorised distributors for the "next generation" Nautilus Hooks™ range of general lifting hooks.
Nautilus Hooks are recognised as a technically advanced lifting hook design that incorporates unique, patented, safety features which are proven to provide users with a significant incease in personal safety levels as well as a much easier operation compared to traditional lifting hooks.
Authorised distributors and suppliers of Nautilus Hooks are presented a clear commercial advantage as Nautilus Hooks become the new industry standard for general use safety hooks.
Distributors can expect an increasing demand for Nautilus Hooks as organisations strive to meet their obligations under regional Workplace Health and Safety regulations to provide the safest possible equipment for use in the workplace.
If your organisation wishes to remain at the fore front of safety initatives and lifting technology then enquire now to become an authorised distributor.
Call +44 1224 772323 or make a distributor enquiry and we'll get back to you.
See our company brochure here.