Nautilus ROV hooks incorporate patented locking technology with unique "Positive Locking" function, ensuring load integrity in the subsea environment. Innovative and cost effective, Nautilus subsea hooks eliminate the risk of load self-release, ensuring safe and secure subsea lifting operations.
Download the product overview here
Check out our full details and specifications on:
Maintenance schedule (recommended)
Activation wires specification
Recommended lifting point specifications for compatibility with Nautilus subsea hooks
SubseaHooks™
Manufactured by Nautilus Rigging LLP
Technically advanced design with patented "positive locking" function sets new standard for safe, secure subsea lifting.
Key Benefits and Safety Features:
Unique "positive locking" function eliminates risk of self release
Outward opening locking arm eliminates "slings" fouling behind latch
Self locking under load – load remains securely locked until released by ROV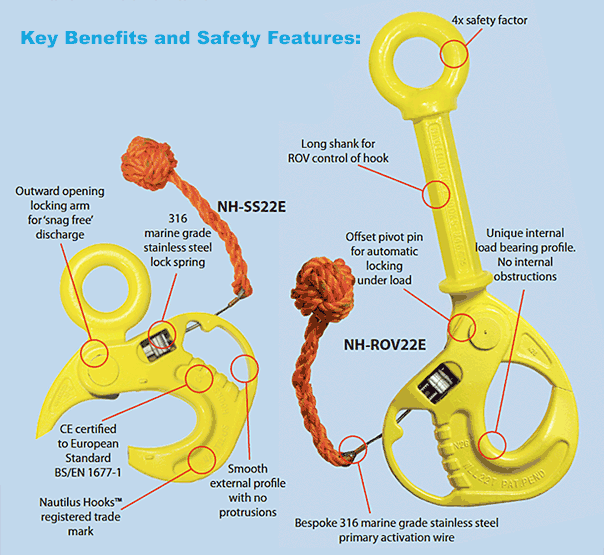 NautilusROVHooks™
The New Standard for Safety
CE Certified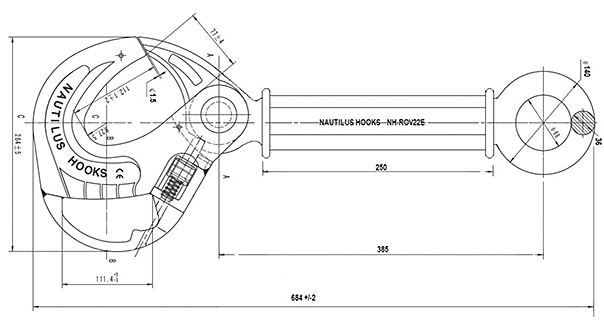 Nautilus ROV & Subsea Hooks
Component

Model / Part No.

WLL

Weight

L

W

T

Long Shank ROV Hook

NH-ROV22E

22 te

21.0 kg

684

264

62

Eye Top SubSea Hook

NH-SS22E

22 te

15.5 kg

434

264

62

Primary Activation Wire

NH-PW200

1200 kg

Bespoke 316 SS stud / wire assembly

Secondary Activation Wire

NH-SW230

900 kg

230mm x 3mm SS wire and ferules
Nautilus subsea hooks are manufactured to EU standard BS/EN 1677-1+A1/2008
Individually proof tested to 2.5 x working load limit
4:1 safety factor – working load limit 22 tonnes
Nautilus ROV Hooks are fatigue rated to 20,000 cycles at 1.5 x the working load limit.
Supplied with manufacturer's test certification
Patented Nautilus Design - USA Patent Number US 8,240,727 B2