Nautilus Hooks™
The New Standard for Safety
CE Certified and DNV type approved.
Download the product overview here
Traditional Hook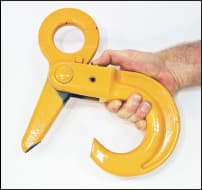 Nautilus Hook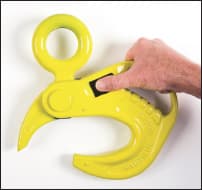 Nautilus Hooks™ are the cost effective solution to eliminating serious, and potentially costly, pinch and trap hand injuries during lifting operations. A revolutionary new design, Nautilus Hooks, incorporate unique safety features that eliminate the inherent hazards of traditional hooks and set a new global safety standard for a broad range of industries and applications including:
Nautilus Hooks Multi Leg Chain Assemblies
Construction
Mining
Mobile Cranes
Tower Cranes
Nautilus Hooks Wire Rope Pennants
Offshore Platforms
Mobile Drilling Rigs
Shipping
Port Services
TopsideHooks™
Manufactured by Nautilus Rigging LLP
Technically advanced design with proven safety benefits, sets the new standard in safety hooks.
Key Benefits and Safety Features:
Unique integral safety handle, eliminating pinch and trap injuries
Protected dual sided locking slide, eliminates external lock protrusions
Unique internal load bearing profile, for quick and easy load or discharge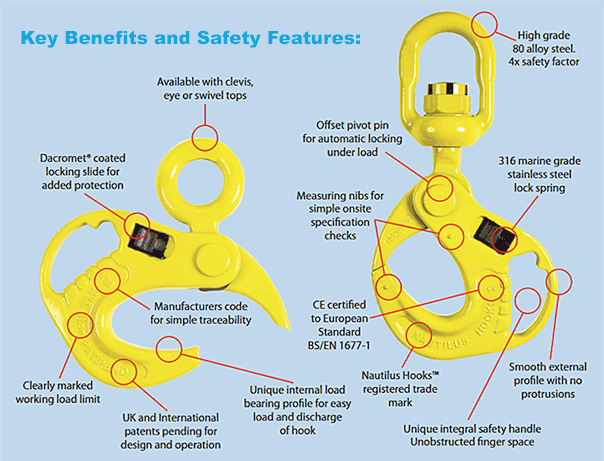 Nautilus Hooks™ - Model Range and Codes
WWL

(x 1000kg)

4

tonne

6

tonne

8

tonne

10

tonne

12.5

tonne

16

tonne

20

tonne

Swivel Top

NH-SL4S

NH-SL6S

NH-SL8S

NH-SL10S

NH-SL12.5S

NH-SL16S

NH-SL20S

Clevis Top

NH-SL4C

NH-SL6C

NH-SL8C

NH-SL10C

NH-SL12.5C

-

-

Eye Top

NH-SL4E

NH-SL6E

NH-SL8E

NH-SL10E

NH-SL12.5E

NH-SL16E

NH-SL20E
Nautilus Hooks™ are manufactured to EU standard BS/EN 1677-1+A1/2008
Comply with DNV standard for certification 2.22 lifting Appliances 2008
Individually proof tested to 2.5 x Working Load Limit prior to shipment
Nautilus hooks are fatigue rated to 20,000 cycles at 1.5 x the working load limit